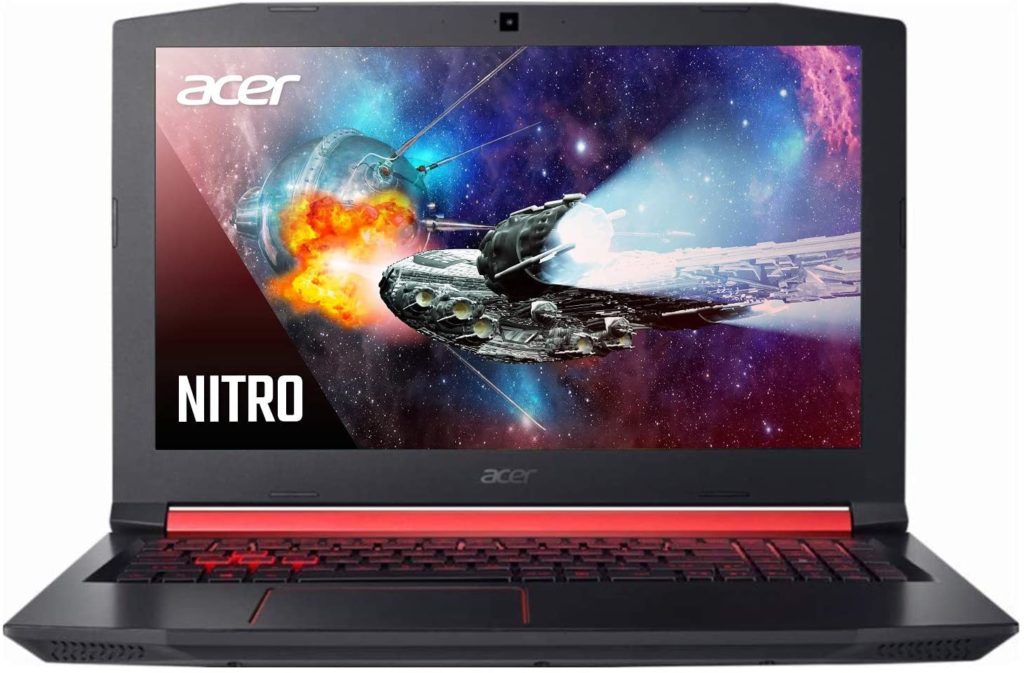 Acer Nitro 5 is a gaming laptop with a 9th Gen i5 CPU, a sleek design, and GTX 1650 that is fully capable at a reasonable price. This is what makes the laptop a delight for casual gamers. The laptop does not heat up easily, even as you play. It comes with solid gaming performance, many ports, and is available at a price that most can afford. This is what makes this laptop a laptop of choice, especially over competitors that tend to be a bit on the pricey side. The laptop is available at under 1000 dollars, which is quite affordable compared to others. 
The laptop comes with a RAM of 8GB that you can upgrade to 32GB. It also comes with 512 GB PCle SSD and room for another 2.5 inch SSD, or if you want, a hard drive. It has a kit and cable for the upgrade. It boasts a full-HD 1920×1080 display and GeForce GTX 650 graphics. The chassis has angular edges and bold colors.
Product overview
The Nitro 5 design is not unique to the Acer Nitro 5 laptop alone. There are many other red and black, angular gaming laptops. The laptop has a rather futuristic aesthetic and is chunky in design. It is housed with a matte-black exterior and a brushed texture good. The hinge is crimson red contrasting with the grill, which is dark webbed. This makes the laptop have a premium look, which is a welcome change from the different laptops from the same brand. Usually, Acer users a silver logo. On this one, though, the logo is replaced by a black metal reflective and glimmers where there is light.
When you lift the hood, you see the cut corners. This is part of the design at the bottom and top of the laptop. This creates some sharp edges that, in turn, give it some flair. The cover is thin and thick texture bordering a screen of 80% compared to the body ratio. The bottom body is chunky and created using plastic that is smoothly textured. This feels cool when you touch it. This is where the ports and red black-lit keyboard are housed.
Acer Nitro 5 has slimmer bezels and retains a red styling like its predecessors. It still has the keyboard and the edging. It has a touchpad and a display hinge cover, just like the previous versions. The hinge covers also bear the NITRO branding.
One of the things that have been changed is the shape of the ventilation slots. There are also changes to the textured finish that was usually used in the top case. The display lid has a design that is a bit more restrained, and now most of it remains plainly in black plastic. The right and left sides of the lid have got a textured finish. However, even with the changes, the Acer Nitro 5 still looks very discreet and playful, like the other Acer versions before it.
The upper plastic case is quite sturdy. Even though it is not so impressive, it still serves the purpose and looks good. There is the base unit that gives way only where there is an intense pressure. The display lid, on the other hand, can easily be deformed temporarily using your hands. The display tends to bounce around a little even though it has a large opening angle of around 150 degrees.
The laptop weighs 5.7 pounds. The dimensions are 15.9x11x1.1 inch, which is slightly heavier than the competing systems under the premium laptop options. This laptop makes it possible for you to have a 1080p gameplay on a screen of 17.3 inches. This is bigger than its predecessors are. The laptop is also very fast compared to other Nitros. It is a worthy choice if you are looking for a gaming laptop with a big screen and is functional at under 1000 dollars.
Product features
Ports
The Acer Nitro 5 comes with tow 3.1 type A USB ports and a 3.1 USB type C port on the left side. It also has a security lock slot, Ethernet ports, and an HDMI port. On the right, there is a 2.0 USB port, a socket for the AC adapter, and an audio jack. It has Bluetooth and 802.11ac, which are pretty standard.
Display
The Acer Nitro 5 gaming laptop has an immersive and massive display. The LCD display has a backlit IPS tech that offers enough screen space from all perspectives. The chassis bezel has been shrunk to 0.3 inches. Using this display to watch something or play games gives you a lot of details. It boasts color reproduction, which makes it possible to produce lifelike colors.
Keyboard and touchpad
Anyone conversant with how gaming laptops look should not be surprised about the red and black color scheme on this laptop. You note that the color scheme on the Acer Nitro five gaming laptop is a bit too extreme. The black keys bear red lettering, but are too dark that they are almost invisible. You get to see them when you are under direct sunlight, or a room that is pitch black and has the backlight on the keyboard turned on. Touch typists can have an easier time using this laptop, especially when you know the keyboard well. It is a bit tricky when you are trying to find some command keys.
Even with the visibility issue, the keyboard is very comfortable to type with. It has fair travel as well as a crisp, pliant plastic response. The touchpad does not have any buttons, so that you may need a heavy hand. It is more like dragging than gliding. This is something that you get used to eventually. However, you can simply use an external mouse to get things moving along easily.
The keyboard has a red-backlit membrane and is Chiclet styled. It is also very responsive and has an actuation of 70 grams and key travel at 1.4 millimeters. It feels good to type with the keys. You input characters with only one tap, and it does not bottom out.
The touchpad arrow keys, in-game movement keys or WASD, and application buttons come outlined in red. This makes it easy to find them regardless of the kind of lighting situation you are in. There is also the number pad that you can use to input spec pages in the Mag CMS.
Audio
Acer Nitro 5 laptop comes with waves Maxx audio software preinstalled even though the speakers are not underwhelming.
Gaming, VR, and graphics
The laptop is equipped with 4GB of VRAM and NVidia's GTX 1650 GPU. This means better performance compared to the GTX 1050, which most older gaming laptops have. You can achieve a lot, even with a medium setting on the graphics. The laptop gives polished gameplay when compared to others. The VR scores 5.8 fps, which is better than 5.6 fps.
Performance
The laptop is outfitted with A 2.4 GHz Core i5-9550H processor, making it possible to easily run some powerful applications. It can withstand multiple actions simultaneously and does not throttle even under pressure. File transfer is also quite fast when you use the Acer Nitro 5 laptop at a rate of around 565 megabytes every second. This is an impressive speed compared to other laptops.
Heat
One of the most impressive things about the Acer Nitro 5 gaming laptop is that it stays cool even under pressure. It stays cool even when you need to perform some demanding tasks. This is because there is the Nitro Sense fan-control app as well as the dual-fan ventilating cooling system that has been added to make things even better. The fan speed of the GPU and CPU can be adjusted independently. During heavy usage, you can boost your fans to the maximum using the CoolBoost. This laptop is the coolest compared to others because of heat dissipation, which is a specialty of the Acer brand.
PROS
It is fairly priced compared to other gaming laptops
It offers solid 1080p gaming
It has a giant display, which is a welcome thing for gamers
You can expand the storage capacity
It has a cool palm rest even when it has a sustained load
The battery life is excellent
It has slim display bezels
CONS
It has a lackluster screen
It does not have a slot for SD card
It does not come with a thunderbolt three-port
The keyboard is a bit hard to read
It has a dim display
It is color inaccurate
The speakers are disappointing, and you may need external ones for a better experience
Bottom line
The Acer Nitro 5 is a great package at a very fair price that gamers can take advantage of. The laptop has a pretty impressive battery life, especially when you engage all the power saving features. It can go for hours without a recharge.
The fact that this laptop is available at a price of less than 1000 dollars makes it one of the most attractive gadgets that gamers can use. It is affordable compared to other gaming laptops, and it comes with features that allow it to stand out and offer the best experience.
It can handle multiple tasks at a time due to the powerful CPU. You can also expand the storage capacity, which is a great advantage to gamers because of the kind of space that games usually take up. The high graphic settings and the UHD resolutions make it one of the best gaming laptops that you can choose.
Fans are a big deal when it comes to gaming laptops or any laptop for that matter. Overheating is never a pleasant thing. This laptop has NitroSense utility to monitor the GPU and CPU fan speeds. This allows you the opportunity to increase the fan speed if some extra cooling is needed. If you choose this, then you should be ready to deal with noise. With the utility, you can access different power plans, and audio presets. There is the Acer care center that handles maintenance functions and system updates.
The Acer Nitro 5 gaming laptop has speakers mounted at the bottom. Even at the highest volume, things do not get buzzy or rough. They do not give the best experience, especially when listening to music, and you are attentive to notes. The laptop does not get very loud. There is no bass even though you may discern some overlapping tracks. However, you notice that guitars and drums tend to be more powerful than the vocals. Even with the MaxxAudio utility offering movie, gaming, music, and voice preset, things do not get that high. There is an equalizer too.
If audio is a big deal to you, you should consider getting high-quality headsets or connect the laptop to external speakers for a better experience.
You can play all top games at the best settings. The screen is large and adequate for purposes of gaming. This laptop is highly valuable if you consider all the factors. The gaming laptop is good for more casual gamers looking for performance within the middle tier. The price of the gadget is similar to the entry-level options in the market.
The laptop comes with a plastic body, which is a little bit chunky. However, with the 9th generation core i5 processor and the NVIDIA GTX 1650 GPU, the chassis is made up for a heightened experience.
Of course, there are other lower-priced gaming laptops available in the market today. You can choose them, especially when you are on a tight budget. However, if you want superior value and better gaming experience, you should consider getting the Acer Nitro 5 gaming laptop. It has the power the speed and all the features that are needed to elevate your gaming experience.
Overall, this is a decent gaming laptop that can get the work done and give you the kind of outcome and experience you could be looking for.